Oil Well & Mud Logging Company
Explore Diversified Well Logging's Range of Services
Classic Mud Logging
Quality and reliability in realtime geological services has made Diversified Well Logging a trusted partner for close to seventy years. DWL deploys its mud logging cabins offshore and onshore throughout the United States. Realtime mud logging packages can be designed to fit any operational need and budget. There are variable manning options and remote systems to reduce HS&E risks. Classic mud logging delivers geological data with mud logs, daily reports, LAS file transfer, and special reports when the drilling operation dictates. All information is quality controlled and communication with clients a key part of realtime services.
Classic Geosteering
Diversified has been a leader in classic geosteering for over a decade, with geosteering centers in Pennsylvania and West Texas. The 24-hour service is run by a team of experts in multiple geosteering software platforms principally Stoner Engineering Software and Rogii StarSteer, but also software such as TerraVu, Boresite, WellDirect, and Dynaview. Diversified Well Logging has successfully geopositioned wells in most of the major USA unconventional shale basins. Currently operations are focused in the Permian Basin and Appalachian region. DWL now brings added geocertainty with the addition of elemental steering.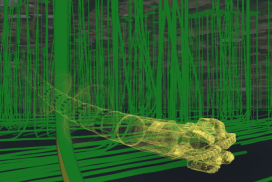 Hybrid Mud Logging
Hybrid Mud Logging makes the full potential of cuttings available. Geological uncertainty within the well or across a field is reduced with the delivery of quantitative elemental data in realtime. Our XRF field specialists assure data quality with rigorous laboratory standard checks and sample depth verification. All realtime data may be used by our artificial intelligence software to enhance drilling efficiency, improve geosteering, and completion optimization. The data gathered is instantly valuable in itself; what the data can add to geopositioning, well spacing, completion strategies and long-term field production is invaluable.
Hydrocarbon Gas & Fluid Analysis
We take the hydrocarbon gas and fluid potential of individual wells and perform correlations of trends across pads or fields. Using mud logging chromatographic data as a base, we evaluate, we correlate, we deliver data necessary for geologists and engineers. By expanding gas and fluid analysis beyond a single well builds a 'library' of realtime data which along with actual production results proves increasingly useful for targeting the right beds in the right areas. This data may then be used by our A.I. and machine learning software for cost efficient completion optimization with production forecasting and simulation.
Elemental Steering
DWL has steered over 15 Million feet of hole over the past 8 years using traditional GR curves to guide us. Building on this expertise we now add elemental data from cuttings to steer wells with greater confidence, staying in-zone and avoiding hazards. Real-time XRF elemental data is incorporated - 'binaries' - that better define stratigraphic packages and formation tops. Elements also mitigate the measure of uncertainty that GR data exhibits in certain formations. Elemental steering increases the geological knowledge and confidence in correct geopositioning. Both lead to improved completion strategies and profitability.
RoboLogger Automated Sampling
Where the need for comprehensive geological data is limited by cost, RoboLogger brings automation to the oilfield allowing high density sampling at an affordable cost for every well. RoboLogger collects and stores drilled cuttings as fast as two minutes per sample providing material for analysis that has proven to correlate excellently when compared to core and downhole tools. RoboLogger is cost-effective, non-disruptive to the drilling process, and reduces the human footprint and HSE risk. RoboLogger is perfect for rapidly drilled unconventional plays, but is also available for offshore deployment where reduction of personnel is desired.
A.I. Driving Capital Efficiency
Diversified Well Logging is acutely aware that our industry is constantly challenged by capital efficiency and return on investment. The need to improve collective capital efficiency has led to our reinvention of traditional mud logging through the development of robotic solutions and advanced software for the collection and analysis of drilled cuttings. Our quantitative data feeds A.I. software from our partner company to drive drilling efficiency in realtime, enhance engineered completions design, and applications for accurate decision making at any stage of the well and with focus in reservoir productivity. Our evolution has started - join us.
Wellbore Surveillance
DWL is invested in the success of every well it logs. Our Wellbore Surveillance services mitigate problems and the resultant non-productive time. Pressure and wellbore stability incidents still account for a majority of lost time and our experts are involved in pre-well planning, realtime monitoring, mitigation, and post-well evaluation. We integrate engineering and geologic data for our A.I. software to improve drilling efficiency in realtime. All data is live-streamed to DWL and/or Client office locations. Drilling data, mud logging data, and third party data are used by our wellbore surveillance experts to keep every well on track and safe.