All wells experience problems while drilling. Problems that result in unexpected hazards that can affect the safety of workers, damage to equipment and facilities, cause environmental damage, and greatly increase cost. Offshore, and especially in deepwater environments, if you only practice reactive control, these hazards could potentially add huge direct and indirect costs to a project seriously affecting the ROI of any company.
At the height of offshore drilling activity, pre-2016, studies have suggested that at least 40% of operating cost was due to non-productive and invisible lost time and around 40% of this lost time was associated with wellbore stability and formation pressure issues. At the time, this represented an estimated $26BN per year.
Today, the old challenges of wellbore stability and formation pressure still exist but are now often further complicated by more complex well paths into structures that have changed significantly over the years due to reservoir depletion and structural stress change. To successfully counter these problems every project needs good pre-well planning, watchful surveillance while drilling with excellent communication, and, post-well, expert analysis and delivery of answers and recommendations for future wells.
With close to 70-years of offshore operational experience and innovative tools developed to drive capital efficiency in unconventional drilling environments, DWL offers its Surface Measurement While Drilling™ services in deepwater with tools to better describe the formations being drilled, tools to increase drilling efficiency, tools to lower non-productive time, and a dedicated team on geologists and engineers both at the wellsite and in one of our Remote Monitoring Centers on-hand 24/7 using those tools for Realtime Wellbore Surveillance.
With the potential cost (not purely monetary) of a major offshore incident clearly understood by Diversified Well Logging, we offer a large, varied, integrated range of products to the table.  We are fully involved in pre-well planning and post-well summation and in realtime, depending on the requirements of our clients, our workflow includes the following: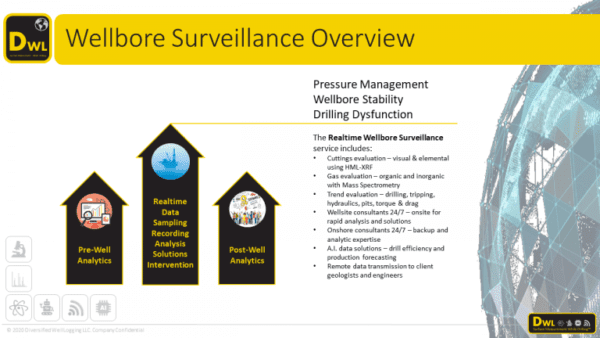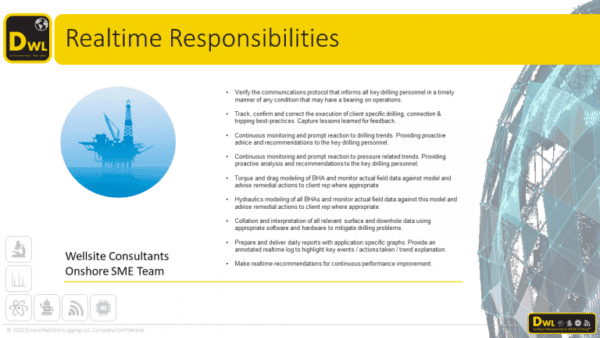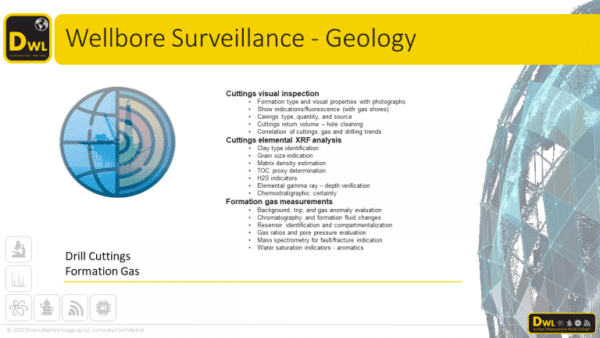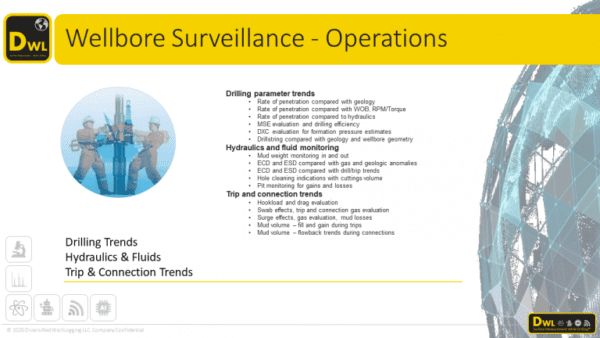 DWL will bring an extra level of formation evaluation to the offshore environment with its Hybrid Mud Logging service. XRF elemental analysis of the cuttings allows far better geologic insight into the rock properties and their potential behavior. Using the K, Th and U from the XRF , we can derive an Elemental GR (EGR). Having two independent GR measurements can provide corroboration for both and, as has happened, EGR can be used to successfully drill ahead if problems with the downhole GR occur. Not only will this save the cost of a trip but also avoid problems that may occur when tripping through problematic formations.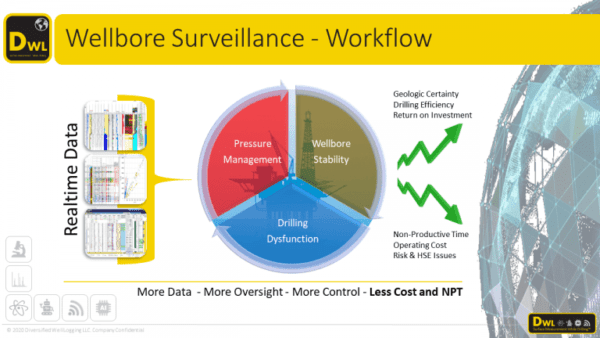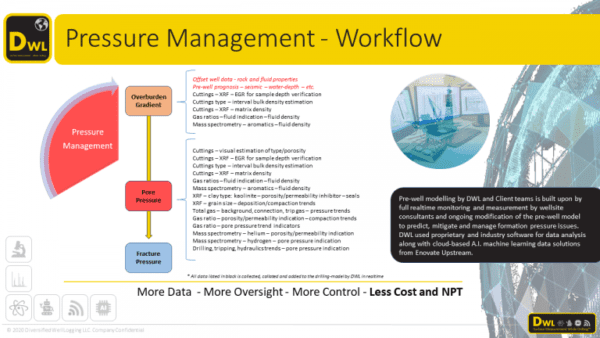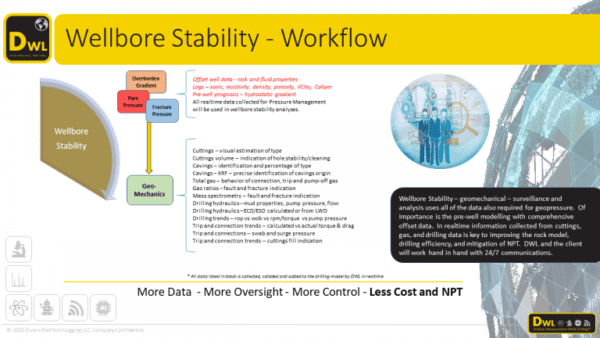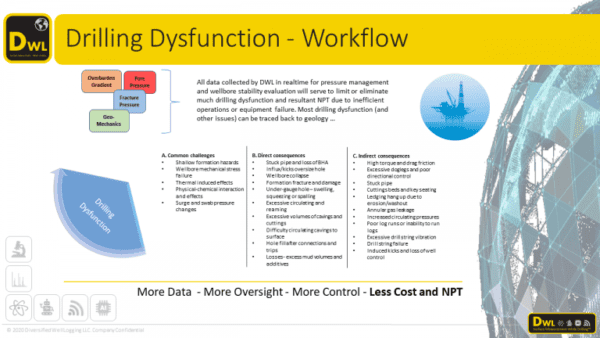 In summary, Diversified Well Logging treats wellbore surveillance with the seriousness it deserves. Our tools collect vital information and our communication protocols assure that issues are promptly flagged and all key-players are made aware of the situation. Experience has taught us that there is no such thing as a small problem. Small problems while drilling generally do not go away, they only get bigger.
We are proud to have had a ZERO recordable incident rate in 2019, and we bring this culture of safety to all we do, Wellbore Surveillance included.
For more information and downloadable service overview ... Click Here.