Diversified Well Logging's mission is to ensure that drilling operations maximise their client's production economics with its suite of high-tech drilling and geological monitoring tools. As the company celebrates its 70th anniversary, it simultaneously celebrates its robust, impressively diverse market position and service offerings that are technologically stronger than ever before. Vice President Sales Tracie Walker and CEO David Tonner spoke with Richard Hagan about the company's impressive track record and its growing international presence.
Established all the way back in 1952 by the Klibert family, Diversified Well Logging celebrated its 70th anniversary in 2022. Its anniversary was also an opportunity to reflect on an era that has seen the company grow from its modest, humble roots in Reserve, Louisiana, into a global industry player and technological market leader.
By providing its clients with real-time rock and fluid chemistry, Diversified Well Logging helps its clients maximise their drilling, completion and production economics. "We interpret the data and then guide the drill bit into sweet spots, thus reducing cost and non-productive time," explained CEO David Tonner. "Additionally, we can guide the well-construction process to the right place for casing points, coring points or well total depth, which reduces overall costs and nonproductive time."
Decades of impressive growth
Since its establishment as a family business in Louisiana, USA, Diversified Well Logging has grown and today enjoys an impressive footprint with a presence that stretches from US land-based sites, through deepwater Gulf of Mexico to sites across the Middle East.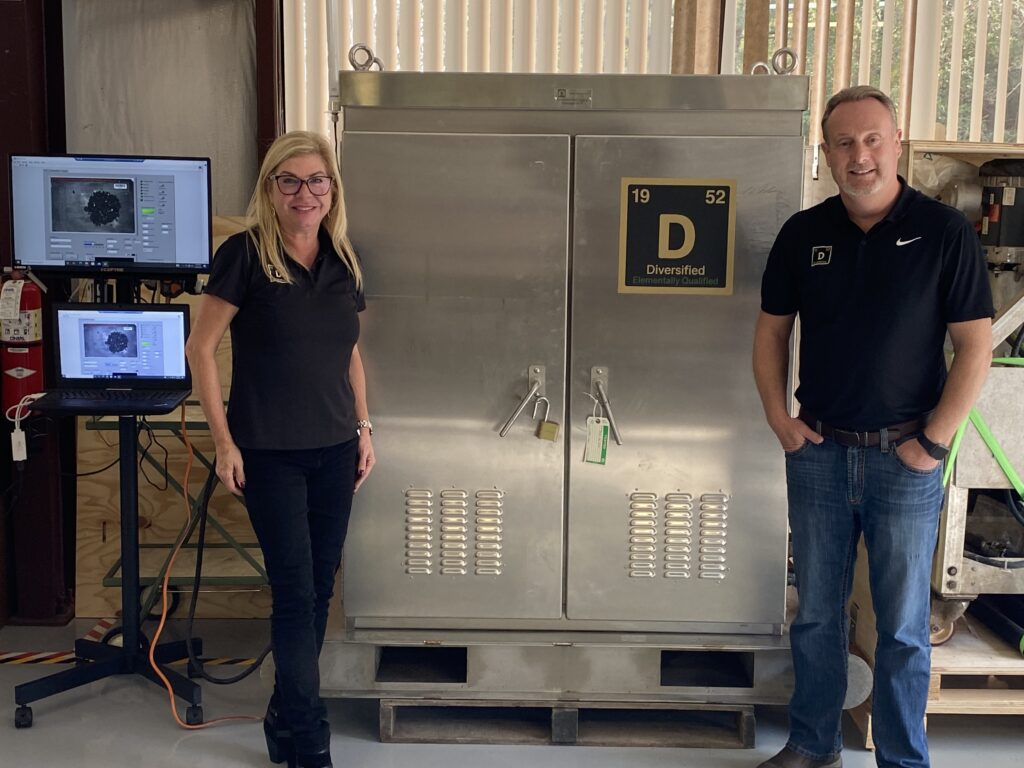 Diversified Well Loggings' 180 employees are spread across the company's eight operational facilities. These sites include its headquarters in Conroe Texas and; its Gulf Coast service centre located in Reserve, Louisiana as well as facilities in Odessa, West Texas (serving the Midland and Delaware Basin), one in Corpus Christi, South Texas (serving the Eagleford and Austin Chalk basins), one in Douglas, Wyoming (servicing the Rocky Mountains) and one in Canonsburg, Pennsylvania (serving the Marcellus UTICA). Finally, it has additional locations in Villahermosa, Mexico, and one in Doha, Qatar.
In 2010, Rockhill Capital purchased a majority share in Diversified Well Logging, providing a springboard for the company's substantial growth that soon followed. That same year, Diversified Well Logging began operations in Mexico, an effort that has developed into a large market share in collaboration with Pemex and operators such as Fieldwood, for both onshore and offshore sites.
A major growth milestone was achiever in 2017 with the company's initiation of two key projects: Its Robologger automation system and its XRF laser Surface Measurement While Drilling (SMWD) programme. These programmes together were a major technological leap forward for Diversified Well Logging's capabilities, as Mr Tonner confirmed: "It moved the company firmly into the realm of high-technology and artificial intelligence." Then in 2022, the company began operations with Qatar Energy through its partner company Jaidah and by late 2022 Diversified Well Logging was already on seven rigs in the Gulf. Simultaneously, the company was expecting to begin operations on a project in Trinidad as well as two rigs in Oman – with all of that due to come online in early 2023. This impressive geographic footprint also ensures that Diversified Well Logging is insulated from the volatility inherent to the North American market.
Excellence in high-tech
As part of Diversified Well Logging's efforts to deepen its high-technology portfolio, the company opened its Centre of Excellence in its facility in Conroe, Texas. This facility houses the company's Rock Laboratory which will provide XRF, XRD and CST analysis.
"Diversified's automation and technology research will continue to grow at this new facility." Mr Tonner explained. "Our Centre of Excellence allows us to concentrate our expertise and resources to focus on providing solutions that improve our customers' drilling, completions and production economics. It will ensure that our technology, combined with our agility and responsiveness, continues to provide our clients with unique data and perspectives that they can't get anywhere else."
"Our tools and expertise are ideally suited to high-risk, high temperature, high-pressure environments," he continued. "Providing quantitative rock and gas compositions from the surface removes a large risk factor. We don't have expensive tools that can be lost in the hole, and it means that extreme temperatures and pressures don't limit our measurement capabilities. So, no matter where our customer decides to drill and however challenging the environment is, we have tools and products to meet their needs."
One of the jewels in Diversified Well Logging's crown is its automated 'Robologger™' Laser Induced Breakdown Spectroscopy ('LIBS') which it developed in partnership with Shell. The system is based on the same technology deployed on NASA's Mars Curiosity and Perseverance Rovers. Diversified Well Logging already has firm plans to deploy the Robologger with a major operator in South Texas, with Shell in deepwater Gulf of Mexico, and in addition with Aramco.
Extensive global projects
In late 2022, Diversified Well Logging further announced the first successful run of its real-time XRF chemostratigraphy in deepwater Gulf of Mexico. The service was being run for Quarter North Energy in the Green Canyon block and was successfully used to help pick the intermediate casing point. The next phase of the project was to involve picking a fault, being a three-way closure stratigraphic structural trap.
Mr Tonner emphasised the breadth of work that Diversified Well Logging is doing with Quarter North Energy. "Diversified Well Logging's service delivery to Quarter North Energy's drilling project in Green Canyon Gulf of Mexico includes operations geology, well site geology, pore pressure, real-time chemostratigraphy, mudlogging and realtime data monitoring and distribution."
Meanwhile, Diversified Well Logging announced that it had secured an impressive order for seven mudlogging systems from Jaidah Energy. The systems would be installed in service of Qatar Energy for a project that would run for five years beginning in 2022. Simultaneously, one mudlogging unit is being supplied to the Tucker energy group in Trinidad to help service that firm's contract with Heritage Oil and Gas.
Impressive figures
Diversified Well Logging's list of past and present projects is extensive, to say the least, and its annual sales figures reflect as much: The company reported 100% sales growth year-on-year, between 2021 and 2022. Naturally, Mr Tonner was optimistic about the company's prospects for the years to come: "I'm excited about the outlook not only for our business but the economy as well."
"There's growth in hydrocarbon exploration and production but also in CCUS carbon sequestration and capture opportunities, which will play a key role in global net zero initiatives. We believe that we've only touched the tip of the iceberg, especially with regard to the international market. We're receiving enquiries for bids almost daily, so it's all good news." Mr Tonner certainly has the work experience pedigree to substantiate his enthusiasm for the work that Diversified Well Logging is doing. He concluded our conversation with a brief history of his career:
"I started my career as a geologist in the field in 1989 and worked several projects across Africa and the Middle East," Mr Tonner recalled. "The work is very hard and physically demanding; it's rife with hazards such as slips, trips, falls, chemical burns and more. For that reason, I get very excited about our ability to deliver our Robologger LIBS system with its automated rock collection and analysis system, because it takes our people out of harm's way. I am passionate about rocks and the fact that there's so much more to a rock than meets the eye. By knowing the rock's composition, we can help our customers make better decisions."
Also, he concluded; "we have robots and lasers and what's not cool about that!"