FORMATION EVALUATION RETURNS TO THE SURFACE
Realtime formation evaluation at the wellsite used to be carried out by geologists or mud loggers examining the drilled cuttings and formation gas collected from the mud stream and "lagged" to bit depth. This was mud logging or surface logging or data logging. Over the years, technological advances and economics allowed more complex downhole measurement tools to be created and run. These MWD and LWD tools determine several formation properties indirectly but became uniquely associated with formation evaluation to the point that 'real' rock analysis in realtime was deemed insufficiently precise.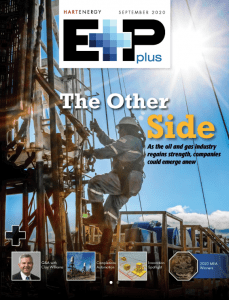 In today's business climate, upstream oil and gas companies are increasingly focused on capital efficiency and return on investment (ROI). Delivery of an acceptable ROI to private and public investors is currently challenging in unconventional plays. However, these challenges also apply offshore with its high cost operations, the focus on trimming budgets, reduction of nonproductive time (NPT) and risk, and getting the best data at the best price.  Modern services - Surface Measurement While Drilling - from Diversified Well Logging combine quality and economy that are fit for today's oilfield.  It is Evolution and Revolution that will be the future of Surface Logging.
Read the article in this months Hart E+P Plus Magazine.
For more information on related services check our  Hybrid Mud Logging and Geosteering Services pages.
ALSO READ "A ROBOTIC FUTURE".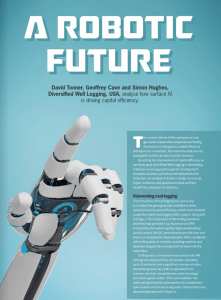 The reinvention of mud logging was necessary to increase the geological data available to drive operational and capital efficiency, which in turn helped to create the hybrid mud logging (HML) system.  Using drill cuttings, a free byproduct of the drilling operation the system provides near real time rock composition measurements.  When combined with drilling data, A.I. methods provide an important window into the subsurface.
The full article on how Robotics and Automation are driving capital efficiency can be read in the June edition of Oilfield Technology.
And more information can be found here Robotics – Automation and here A.I. Machine Learning