In today's cost constrained upstream market our clients are faced with the need for more reliable data to improve return on investment but limited budgets. Cores are excellent sources of geological data but costly to run consistently. Suites of downhole logs, seismic and micro-seismic surveys are also costly additions to the budget. DWL has long delivered mud logging services which provide cuttings and gas data that provide a very good qualitative view of the wellbore but here too there are challenges. With ever higher rates of penetration it has become increasingly difficult to collect samples at intervals that accurately describe the formations. Apart from this lack of sample definition, field personnel face increased HSE risks - slips trips and falls - while trying to maintain a good sampling program.
Sampling Automation - RoboLogger
DWL has risen to the challenge. Our automated remote sample collection RoboLogger is the oil and gas industry's only fully automated cuttings collection device. RoboLogger collects, washes, photographs, wraps, and stores up to 350 samples on a removable reel automatically at a rate of 2 minutes per sample. RoboLogger is controlled remotely and samples may be viewed remotely on the clients computer under white or ultra-violet light.
RoboLogger allows us to address the challenge of clients needing more data and the challenge of cost control. Data density and quality is proven to be excellent and the cost allows it to be run economically on every well. With RoboLogger the human footprint is also reduced and associated HSE risks.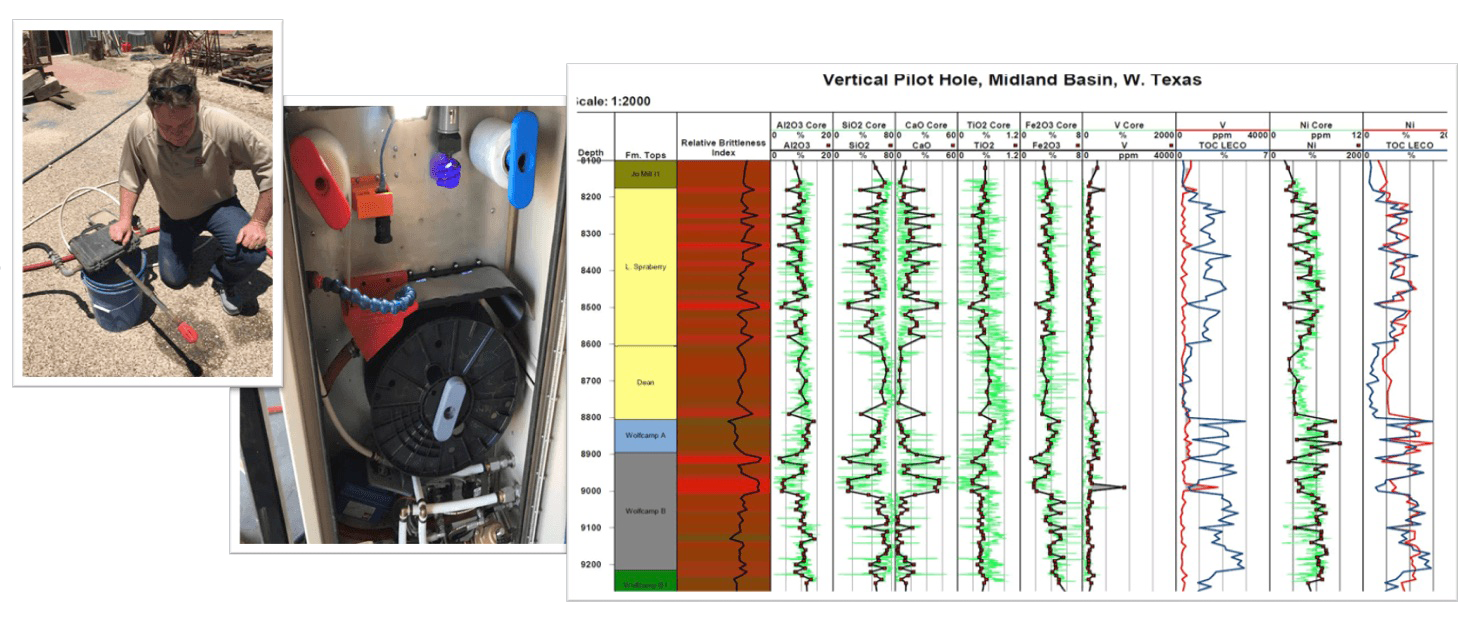 (1) The first picture shows the sample collection probe.
(2) The second picture shows the main part of the RoboLogger where the samples are photographed and wrapped.
(3) The plot shows RoboLogger elemental data (black) plotted alongside elemental core data.
Applications:
Vertical and lateral drilling
High rates of ROP
Enhance stratigraphic correlation
Input for engineered completions
Elemental geosteering
Replacement of coring runs
Replace downhole FE tools
Benefits:
Reliable high data density
No operational disruption
Reduced uncertainty
Less personnel onsite
Reduction of HSE risks
Cost effective
DWL is currently developing the second generation of RoboLogger.  The next generation will provide all the benefits of our current RoboLogger system with the addition of direct elemental analysis of the cuttings as they pass through the system.  Collecting and analyzing cuttings at least every two minutes will be a game-changer for Surface Measurement While Drilling. It will  allow faster quantitative data to be fed to our Elemental Steerers, and into our A.I. software.
Operational Success
Our robotic system (formally referred to as ARM) has been deployed on close to 30 onshore wells in the USA for companies that include Parsley, Diamondback, Permian Resources, Callon, ProPetro, Pearl Resources, PetroLegacy and Windy Cove Energy.  Its operation and benefits were highlighted in a number of papers, co-authored with PetroLegacy in 2018. Two of these may be viewed below.
In conclusion, our system has proved to be a viable and reliable method of collecting and storing drill cuttings with minimal human intervention. It collected drill cuttings which when compared to human collection of the samples represented a greater than 300% improvement. This new technique for sample collection provides an important improvement in the areas of collection frequency and sample collection integrity. Using high resolution sampling and applying XRF analysis provides the opportunity to optimize wellbore completion through greater understanding of geomechanical properties.
For more information or to request a quote, CONTACT DWL